Piscataqua Savings Bank is the proud supporter of over 110 Seacoast area nonprofits. We're highlighting a few of the nonprofits doing incredible, critical work in our Seacoast community with our Seacoast Spotlight Series. First up in the spotlight: Bedrock Gardens.
Bedrock Gardens is an oasis of art, horticulture, and inspiration located at an historic New England farm in Lee, New Hampshire. Emerging recently from a private sanctuary to a public non-profit, Bedrock Gardens welcomes visitors to connect with art, nature, and each other. 
Bedrock Gardens was designed as a journey through landscape rooms and open spaces graced with sculpture, native and rare botanicals, and wildlife habitats that instill a sense of peace, serenity, humor, and vital well-being. From the wildlife pond, elegant Japanese teahouse landscape and fernery, to a 'grass-acre' that evokes a vision of an impressionist painting, Bedrock Gardens features a multitude of design environments to experience nature in. Each season offers a different experience, from the early blooms of Spring to the stunning autumn foliage.
Visitors can enjoy a guided tour, enjoy a quiet stroll through the gardens at their leisure, or even pack a picnic to enjoy on the grounds. Bedrock Gardens also offers classes and features a gift shop with plants, unique gifts, and garden tools.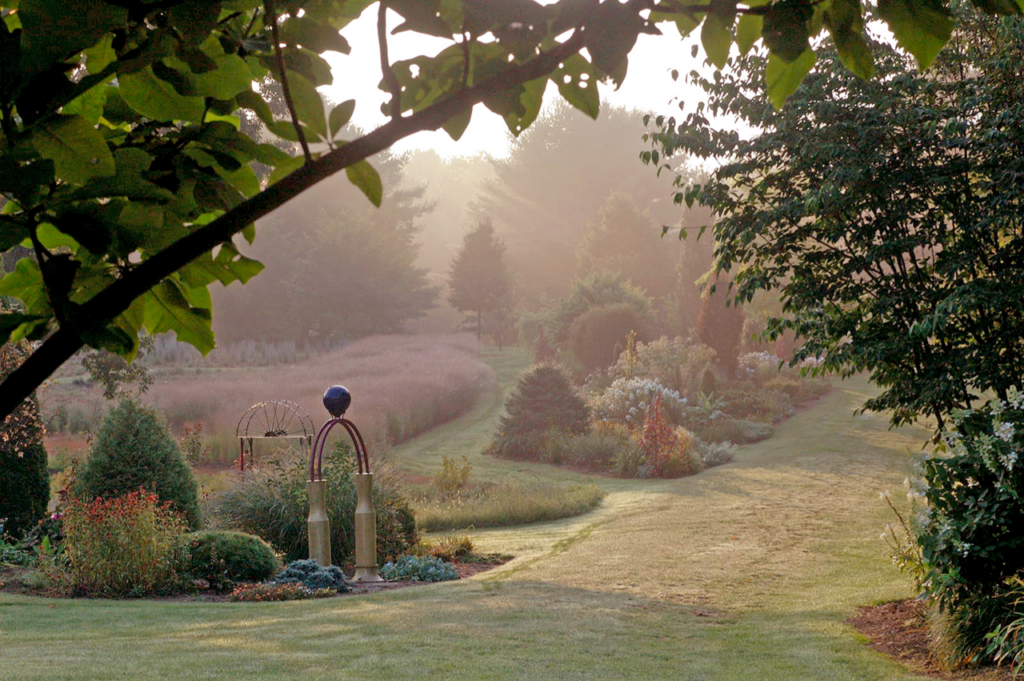 Visiting Bedrock Gardens
Bedrock Gardens opens for the season on May 17th, 2023 with a full calendar of regularly scheduled garden tours, programs and events. Open Tuesday through Friday, and the 1st and 3rd weekends of the month, from May 17th through October 9, 2023, visiting hours are between 10am-4pm. There's a suggested donation of $15 per adult, and children 12 and under are free. The season concludes with the 7th Annual Fairy and Hobbit House Festival (registration required) in October. To plan your visit, register for programs, or to explore the gardens virtually, visit Bedrock Gardens online. 
How To Support Bedrock Gardens
The Friends of Bedrock Gardens is a 501(c)(3) tax-exempt public charity, doing business as Bedrock Gardens. You can support public access to Bedrock Gardens for years to come through a financial donation, or by purchasing a membership. Bedrock Gardens also has many opportunities for volunteers, including working in the gardens, greeting visitors, and becoming a garden docent.
Back to News and Insights